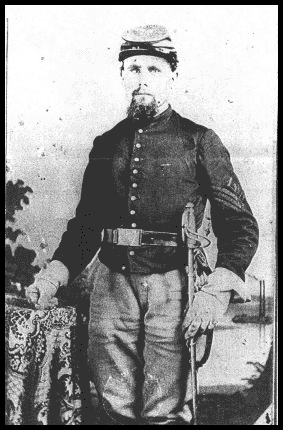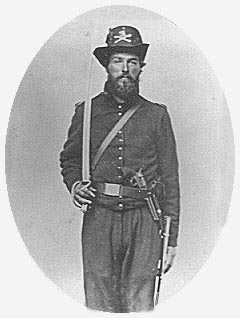 THIRD IOWA CAVALRY COMPANY D
Uniform Requirements
The uniform is the core of your impression. Your basic uniform and general items are listed below. There are choices in some items. The Company has a few uniforms, equipment items, and weapons for a short time use till you're able to buy them. Check with Baker or any of the veterans of the unit and they will help you out.
Enlisted Trooper
Basic Uniform and Equipment
Hat - dark blue forage also known as the bummer, black slouch, Hardee Hat
Dark Blue Jacket - Sack Coat , Shell Jacket - plain: 1861- nine button or 1863- seven button shell jacket. Also in use was the 1854 Yellow trim shell jacket
Shirt -4 button style-Natural muslin-for ceremonies and parades, colored shirts-that were sent from home

Vest - dark blue military- A soldier in shirt sleeves, without a jacket or vest on, was considered being indecent, so a vest will be required when not wearing your jacket

Trousers - sky blue mounted or infantry

Suspenders-known as braces

Boots - Brogans - Cavalry Boots
Socks - Wool
Leathers (black) - Saber belt with square eagle buckle silver wreath, Holster-right side butt foreword, cap pouch, cavalry carbine box, optional-pistol cartridge pouch, cylinder pouch
Carbine Sling- Black leather belt with large snap, can be a first or second year item
Spurs- Plain enlisted style with black straps, mounted, dismounted optional
Haversack - Tarred canvas

Mess kit - plate, silverware - fork/spoon/knife-individually, folding or slide together, cup-large or small
Canteen-dark blue cover, stainless steel

Tent - individual trooper-shelter or Dog tent, "A" frame or wedge. Family- wall
Weapons -Union Army had steel frame pistols,1851 Colt Navy .36 cal, 1860 Colt Army .44 cal, Remington Navy .36 cal, 1858 Remington New Army .44 cal, 1859 Sharps, Smith carbine, Saber - 1840 wrist breaker or 1860 light cavalry
Items ya might want to pick up in your first year:
Wood folding chair or stool
Lantern-candle

Pocket watch
Poncho
Mounted great coat
Gauntlets - Buff/yellow, can be a first or second year item
Gloves-rag wool-full or fingerless

Mounted Soldier Equipment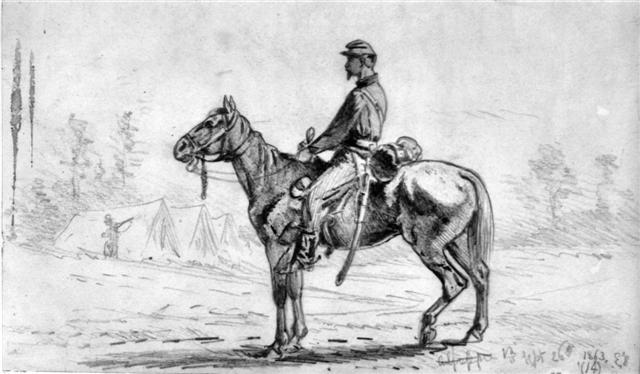 Any questions on any items on the list below
talk with the Commanding Officer or Mounted Safety Officer
Some items can be bought in your second year.


Horses-geldings and mares, prefer geldings
Dark color horses preferred but all colors were used during the War.

NO STALLIONS

Enlisted/Officer tack is black leather.
1859 McClellan Saddle

Girth
Saddle Blanket-navy blue with orange strip
An Officer can use a Shabraque

Surcingle-Required-Safety belt

Bridle 6 Buckle

Reins
1863 Curb Bit
Curb Chain
Halter 1840-1865
Lead Strap
Link Strap
Breast Collar with
brass heart or plain leather heart

Crupper
Other Items

Carbine Socket
Pommel Holsters
Nose Bag
Curry and Mane Comb
US Hoof Pick
Saddle bags